The Infinite Texture Panel
Continuing the evolution of creativity from Infinite Color, we collectively sought out to make something never before envisioned. Infinite Texture opens up the possibility of taking the largest database of high resolution textures and gives you the power to access them efficiently for an unparalleled level of creativity.
The ability to add depth to any image from the multitude of textures from Raw Exchange produces an infinite number of possibilities. Artificial Intelligence allows for the ability to incorporate this extensive library in a method never before available. The unique experience of accessing these textures in a customizable way will inspire you to play and create like never before. You have to try it to believe it.
— Stefan Kohler and Pratik Naik (founders)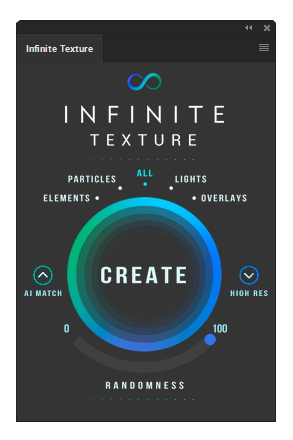 What is Infinite Texture Panel?
Infinite Texture Panel is truly a collaboration between Stefan Kohler and the team at RAWexchange International, Conny Wallstrom, and myself. RAWexchange International is a company that has an unbelievable amount of high res textures collected over the course of years. They've amassed a catalog that truly feels unlimited and is unrivaled. What if you had access to ALL of that with a click of a button in a way that also comes with full and clear commercial rights for personal and professional use?
A seemingly unlimited amount of textures in combination with how they all interact with each other make for a truly infinite experience! With the inclusion of Artificial Intelligence to categories and render similar or new textures at the click of a button, the possibilities are endless. You just have to see it in action to get the full grasp of it!
It also comes with a free trial so you can see how amazing it is for yourself. 
We really want you to get the full idea of how the panel works! We'll go over what's in each category, the interface, the benefits of our full version over our free version, how textures can be used in any image, real workflow examples, and our most impressive Artificial Intelligence features (our randomness slider and A.I. Match tool) to sort through our database and inspire creativity! 
See just how we can sort through an impressive amount of images with highly intelligent A.I.! 
Part 1 – About Infinite Texture Panel and what it's all about. 
Part 2 – 00:53 – Introduction to categories, create, randomness, low vs high resolution.
Part 3 – 04:42 – Artificial Intelligence (A.I. Match) – Using similar textures from samples and creating variations
Part 4 – 06:49 – Artificial Intelligence (A.I. Match) – Hand painting to find textures with A.I.
Part 5 – 09:54 – Real world examples and workflow using ITP